BIOGRAPHY OF JEAN-CHRISTAN MICHEL

A MUSIC's STAR BORN WITH A DESTINY

A UNIQUE CAREER

A UNIQUE MUSIC



Jean-Christian MICHEL's destiny has been quite exceptional. His original compositions, coupled with an extraordinary clarinet sound, quickly brought him to a unique place in the world of music, and the glory of a global career :
The immense success of his Jazz and Sacred music church concerts and the sales of his newCD of JAZZ & SACRED MUSIC CROSSOVER attest to it. But if music is at heart of the composer and clarinettist, the man also amazes by virtue of his individual personality.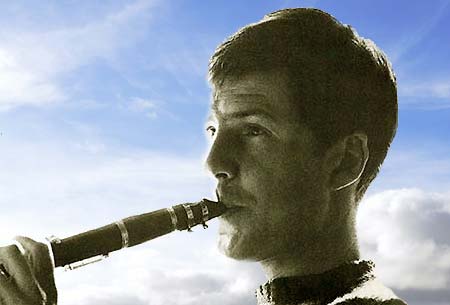 Music's Star
JEAN-CHRISTIAN MICHEL : A LIFE OF LOVE FOR MUSIC

Studious Childhood

A DEEP NEED FOR MUSIC

In his childhood Jean-Christian MICHEL already had an irresistible need for music :

When he was seven, he went alone into the multi-coloured obscurity of cathedrals to listen to the deep sounds of the organ.

There, the blind organist of his church discovered his gift for music and introduced him to musical beauty.

Later he entered the conservatoire, to study the clarinet, quickly gaining a passion for JS BACH's Sacred music and american black Jazz. But also for the sciences, the arts and philosophy.

Surgeon

He left both, high school with a diploma and the security of his family home at sixteen, and worked to pay for his studies. Because, in the household of Jean-Christian MICHEL, one does not joke : "music is not a real profession!"

At twenty seven he was a surgeon, but in moments of silence he still heard the echo of a music trying desperately to be born : his own.

SACRED MUSIC ON THE FRONT PAGE OF CURRENT EVENTS

1970. The black shadow of a clarinet stands out against the stained glass windows of France's great cathedrals.

Jean-Christian MICHEL's
St Roch church concert.

A man shrouded by mystery draws a generation of young people towards an unexpected music, purer and more spiritual, mixing clarinet and organ and fusing Jazz vitality and the majesty of Sacred music.

Kenny CLARKE, the brilliant drummer of the MODERN JAZZ QUARTET joins the group. Millions of albums are sold all over the world, overtaking at that time even the sales of the Beatles.

Thousands of concerts are given in front of immense crowds : the phenomenon of Jean-Christian MICHEL had arrived and the "jazz-classical" crossover was born !

Yet nobody knows the face of this solitary man who avoids society and the gala evenings of the Star-System ...

Church "St Pierre
de Chaillot" - Paris

Jean-Christian MICHEL with Kenny Clarke

Requiem, first vinyl record

An unimaginable crowd sitting on the floor

Saint Victor Abbey

Jean-Christian MICHEL
Dream the music

Jean-Christian MICHEL in concert
At Saint Germain l'Auxerrois - Paris

Jean-Christian MICHEL
Super Star




THE CALL OF THE HIMALAYA - IMAGES

Jean-Christian MICHEL
in the Himalayas

Because Jean-Christian MICHEL himself is a very exceptional person. At the peak of his success, he disappeared abruptly from the media spotlight.

An authenticity drew him towards mysterious places where he would be able to confront his own soul. It was on the murderous slopes of the Himalayas where, as expedition doctor, he was to climb the "first" of Tawesche, about 7000 metres above sea level with Yannick SEIGNEUR, the famous conquerer of Makalu !

At Lhasa, in Tibet he joined a thousand years of tradition…

Climbing in the
Himalayas Népal

He discovered, in the shadow of forbidden monasteries, mysterious sciences which exceeded by far all his previous researches.

Through these experiences Jean-Christian MICHEL gradually achieved the spirituality for which he has been striving since the childhood.

CONCERTS - A GLOBAL CAREER

But his return is publicly demanded, success is there. Jean-Christian MICHEL is in demand all over the world.

The clarinettist performs equally well in his "tour of cathedrals", as he does under the vault of a star studded sky in the "Natural Cathedrals concerts", or even in immense aeroplane hangars…

Europe, America, Africa, Australia, Asia, alternately resound to his talent.




From Hamburg to Los Angeles, by way of Abidjan and Stockholm, thousands of young people applaud Jean-Christian MICHEL.

At the same time this secret man, who does not particularly seek them, is honoured by official distinctions.

GOLDEN DISCS

The composer receives 3 diamond discs, 7 platinum discs and 10 golden discs...

FULL MEMBER OF THE SACEM

He becomes a Full Member of the SACEM ( association of composers and music publishers to protect copyright and royalties )...

PRIZE FOR SCIENCE AND CULTURE

Then a jury consisting of six Nobel prize winners awards him, at the Sorbonne, Paris, the prize for "Sciences and Culture"... But is all this really important ?

CARITATIVE ACTION

In the midst of this adulation Jean-Christian MICHEL does not forget the humanitarian questions and very often supports and does charitable works. Pope PAUL VI expresses his gratitude in a letter of congratulations accompanied by his silver medal.

SACEM's Medal

Silver Médal
of Pope Paul VI

ANNAPURNAS, KILIMANJARO : THE COLLECTION OF THE USELESS

The Pothala Temple Lhasa

Pothala Temple inside

Alongside his career, in his perpetual quest for knowledge and freedom, Jean-Christian MICHEL is passionate about aviation, learns to fly, and then escapes to the controls of his own aircraft.

He flies over land, seas and oceans and even crosses Africa...

The Himalayas, naturally, kept many secrets. Peaks and adventures continue to call to him like unending love stories.

He returned there five times. Mera Peak, Island Peak, Dolpo, Annapurnas, Amadablam, Lhasa...

Then he visited Tanzania, to contemplate the sunrise over Africa from the mystical summit of Kilimanjaro.


MICHEL : Plane pilot

In his concerts, Jean-Christian MICHEL unites the echo of his clarinet with a choir of instruments in a magical atmosphere.

EMOTION AND HIGH-TECHNOLOGY IN CHURCH

The digital liturgical church organ that he has invented sounds like an orchestra. The synthesizers surround him with exotic veils of rare beauty :

On keyboard, we find his constant collaborator, Monique THUS. Unfamiliar sounds move and penetrate the body...

The soul and the senses wind gradually into the spiral of a cosmic universe where one escapes gravity. Jean-Christian MICHEL, reveals, through the heart-rendingly plaintive song of his clarinet the enigmas of unknown worlds.
"Science and Culture" Price
"Sorbonne" - Paris

Jean-Christian MICHEL possesses an exceptional balance between action and meditation. He dedicates his energy to the singular constant which has endured since the dawn of time : change.

To be afraid of change, is obviously to be afraid of the unknown : that's why man is afraid of being born, of living and of dying …

But Jean-Christian MICHEL reveres change, because it is the fundamental element of intelligence, evolution and progress.

So, the fear fades, the disturbing unknown becomes an opportunity to discover and create and also a source of enjoyment : this glittering warmth in his music is like a beautiful light which erases all fear.

For Jean-Christian MICHEL, Life, Love and Music, derive from the same big principle. That is why, with Nature, Freedom and Knowledge, they are his sacred values. The Essential in its simplicity is his secret.

He has always searched for it, and now, coming close to an ultimate understanding of the universe he wants to share his vision.

A MYSTERIOUS MUSICAL MESSAGE

JEAN-CHRISTIAN MICHEL

Contemporary composer, impressive concert performer, Jean-Christian MICHEL is one of the great musicians.

However, his music escapes from the known universe : by leading us to a recognition of ourselves, it floods us with a golden dust, made by the fusion of our breath with that of the heavenly spheres.

It is clear that Jean-Christian MICHEL wants to make the intimacy of man resonate with the echo of the infinite, and to resound in the infinity of worlds the tiny echo of the intimacy of Man.

J.V. KERNEL
JEAN-CHRISTIAN MICHEL : PORT MARIA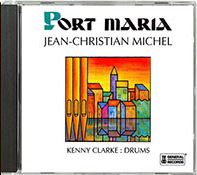 JEAN-CHRISTIAN MICHEL "PORT-MARIA"
WITH KENNY CLARKE
[ ORDER THE ALBUM ]
PORT MARIA
With Monique THUS, organ ; Kenny CLARKE, drums ; Jean-Pierre COULEAU, piano. The sublim concerto for clarinet and piano from Jean-Christian MICHEL.
Port-Maria - Le Voleur de Sommeil - Trille et fugue en ré mineur - La Corde de Larmes - Sonate en Fa majeur - Choral les Oxydes de Lumière - Les Paraboles de l'Espace - La lagune insondable.

• NEW VIDEOCLIPS OF JEAN-CHRISTIAN MICHEL

BACH JAZZ BY JEAN-CHRISTIAN MICHEL

JAZZ & SACRED MUSIC BY JEAN-CHRISTIAN MICHEL

SHOWS " SON & LUMIÈRE" BY JEAN-CHRISTIAN MICHEL

JEAN-CHRISTIAN MICHEL PLAYS JAZZ
INTERVIEWS JEAN-CHRISTIAN MICHEL
WATCH / DOWNLOAD VIDEO CLIPS

DISCOVER DISCS CD & DVDs OF JEAN-CHRISTIAN MICHEL
Clarinet & Organ Discs, DVDs & Concerts of a new type