In a period when the distribution of commercial music is monopolised by four or five firms, the Internet still retains its marvelous power of information in its young tradition of freedom.
Indeed the multinationals of the recording industry sterilize creation by imposing their artists on a public a little lobotomised by mindlessness which every state sponsors through the media assuming its duty as a general anesthetic. By agreements with these same media, these venal consortiums thus deprive people of discovering other forms of expression. That which is true for music is just as true for the other arts (litterature, painting, cinema etc.) : To fill their pockets, 21st century traders suppress qualitative creation.
That is why the Web is one of the last areas in which it is still possible to distribute original material. And fortunately the Internet is difficult to enslave and is growing exponentially !
| | |
| --- | --- |
| | PRESS CLIPPINGS FROM THE CONCERTS |
CLICK HERE TO WATCH THE WHOLE INTERNATIONAL PRESS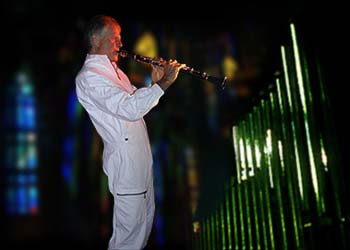 Jean-Christian MICHEL : new church concerts
| | | |
| --- | --- | --- |
| Crowded | Clip video in Marseille | Concerts full houses ! |
NEW PUBICATIONS ON CD
| | | |
| --- | --- | --- |
| EVE DES ORIGINES | PORT MARIA | PLAYS JAZZ |
LISTEN TO A TITLE ON MP3 BY CLICKING ON THE COVER
CD • OUVERTURE SPATIALE
Ouverture Spatiale - L'Irradiation d'Or - Carillon - Noël - Choral de La Keyrie - Fantaisie en si bemol - Aria du Graal.
With Kenny CLARKE, drums ; Monique THUS, orgue ; Pierre LABADIE, cello ; Guy PEDERSEN, double bass.
CD • PORT MARIA
Port- Maria - Le Voleur de Sommeil - L'Infiltration Céleste - Le Voleur de Sommeil - Trille et fugue en ré mineur - La Corde de Larmes - L'Aube des Temps - Choral les Oxydes de Lumière - Les Paraboles de l'Espace - La Lagune insondable.
- With Kenny CLARKE, drums ; Monique THUS, orgue ; Jean-Pierre COULEAU, piano.
CD • LIVE CONCERT
A single track of concert : Les paraboles de l'espace - Eve des origines - La forge d'hallucinations - Vision d'Ezéchiel - L'offrande originelle - Les ricochets de lumière - Carillon - Le cœur des étoiles - L'horloge perpétuelle - Choral de la Keyrié - L' équation de l'infini - La lagune insondable.
JEAN-CHRISTIAN MICHEL LIVE CONCERT : It is night in L.A and day in Paris. Jean-Christian MICHEL and his group appear suddenly, as from another world, surrounded by the strange light of laser volumes. The multidimensional sounds of the synthesizers seize space in a high voltage atmosphere. Turn on the light, turn on the sound and close your eyes : you already are between Saturn et Uranus...
CD - JOHANN SEBASTIAN BACH's TRANSCRIPTIONS
Aria from D suite, BWV 1068 - Sonate IV - Choral BWV 515 - Unto Thee I cry O Lord Jesus, BWV 639 - St Matthaus Passion, Choral BWV 244 - Choral BWV 737 - Choral : In dich hab ich gehoffnet, BWV 640 - Herr Jesu Christ, dich zu uns wend, bwv 709 - Trio in C minor, BWV 585 - Jésus bleibet meine freude, Cantata BWV 147 - Concerto in D minor BWV 1043 - My Soul longueth to depart in peace, BWV 727 (new arrangement) - Cantata BWV 144. - MAGIC SOUNDS !
Johann-Sebastian BACH's works exclusively created with computers and synthesizers, by Jean-Christian MICHEL. Johann-Sebastian BACH's works chosen and arranged by JEAN-CHRISTIAN MICHEL, with the magical sounds of new synthesizers ! Jean-Christian MICHEL has been perfecting these mavellous recordings in his studio. Johann-Sebastian BACH's works with spatial sounds !
Don't forget to visit the page "Discs &CD" to consult the complete discography !

MUSICAL DVD OF JEAN-CHRISTIAN MICHEL 16 / 9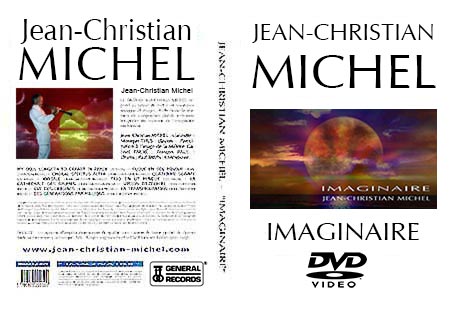 MUSIC DVD of Jean-Christian MICHEL
Mixes cosmic images and music
DVD - JEAN-CHRISTIAN MICHEL "IMAGINAIRE"
Jean-Christian MICHEL has just finished the realization of its MUSIC DVD. "IMAGINAIRE", as is the title, will you do travelling to dreamland !
My soul longeth to depart in peace (JS BACH) – Fugue en sol mineur – Choral spiritus alter – Quatrieme sonate (JS BACH) – Kyriale – Trio en ut mineur (JS BACH) - La Cathédrale des brumes – Vision d'Ezechiel – Ève des Origines – La Transfiguration – Des Générations par millions.
To know more on the new MUSIC DVD OF JEAN-CHRISTIAN MICHEL "IMAGINAIRE", clic on :
[ MUSIC DVD ] (fr)
See all new articles on page:
[PRESS REVIEW]

• NEW VIDEOCLIPS OF JEAN-CHRISTIAN MICHEL

BACH JAZZ BY JEAN-CHRISTIAN MICHEL

JAZZ & SACRED MUSIC BY JEAN-CHRISTIAN MICHEL

SHOWS " SON & LUMIÈRE" BY JEAN-CHRISTIAN MICHEL

JEAN-CHRISTIAN MICHEL PLAYS JAZZ
INTERVIEWS JEAN-CHRISTIAN MICHEL
WATCH / DOWNLOAD VIDEO CLIPS

DISCOVER DISCS CD & DVDs OF JEAN-CHRISTIAN MICHEL
Clarinet & Organ Discs, DVDs & Concerts of a new type