CONTACT JEAN-CHRISTIAN MICHEL

French Phone : -------04.42.24.92.52
International Phone Contact : 33.4.42.24.92.52
Mail : click on the right button to contact us
Contact us !

Write, order :

GENERAL RECORDS PRODUCTIONS
Domaine de la Keyrié - 2113 chemin de Repentance
13100 Aix en Provence - France

ORGANISE
A CONCERT
Contact Us Directly For Any Question Or Information About The Choice Of A Concert : Price, Organization, Schedule, Reservations In France And In Europe ; New CD, DVD Or Any Other Information : Simple And Cordial Contact, With Quick Response And Effective Solution To Your Request
| | |
| --- | --- |
| | FILL IN THE ORDER FORM TO RECEIVE A DISC, CD or SCORE... |
| @ | |
| | WELCOME TO ORGANIZERS OF CONCERTS |
JAZZ AND SACRED MUSIC CROSSOVER
"Jean-Christian MICHEL appears in a symphony of colours and lights, dressed in his white spatial overall. His talent and magnetism reveal an unexplored musical universe".
Hello friends,
Jean-Christian MICHEL, world-famous clarinettist (3 diamond discs, 7 platinum discs and 10 golden discs, 5 million albums andCD sold) is resuming his church concerts in Europe and France.
His unique musical style, Jazz-Sacred music crossover allies Jazz and Classical. Sacred music and sophisticated Jazz are thus melded together, associating tradition and modernity in a translucent echo.
Jean-Christian MICHEL's small group expresses itself through actual performers.
Integrating in his music the resources of new technology, using the sublime sounds of all the latest multi-space resonance synthetizers, Jean-Christian MICHEL has discoverd how to create new and extremely beautiful and moving sound alloys.
Jean-Christian MICHEL's small group calls upon real concert performers who utilise these modern instruments to the full.
Live music in spatial echoes, Jean-Christian MICHEL's music reaffirms in its modernity its prodigious emotional power
Kind Regards
Jean VALDET
Church concert
Jean-Christian Michel

Laser show Jean-Christian Michel

Interstellar concert
Jean-Christian Michel

Laser concert
Jean-Christian Michel

"JAZZ AND SACRED MUSIC CROSSOVER" : AN UNKNOWN MUSICAL UNIVERSE
JEAN-CHRISTIAN MICHEL's NEW SHOWS ARE A COMPLETE AUDIO VISUAL EXPERIENCE
♔ Jean-Christian MICHEL's new music unites the unique sound of his clarinet with the mysterious echoes of the organ. Associating the multidimensional transparencies of the synthetizers, warm but also "spatial", it transports the audience to another universe.
♔ Monique THUS (1st prize for organ at the conservatoire, the organist of the Basilica de Notre Dame de la Garde at Marseille, France) performs at the keyboards.
♔ In church concerts, Jean-Christian MICHEL's ensemble assures a sophisticated sound "Digital New Class A" and electronically controlled multicolored lighting brings an original dimension to the show.
♔ Jean-Christian MICHEL also performs with choirs. We will send you demonstration scores andCD on request.
♔ Jean-Christian MICHEL's "Sound and Light" Grand Outside Shows use the latest in high-tech sound, lighting and special effects (Laser, Fireworks, Enchanted Waters Laser show). Many hundred of recommandations. (Click here to see the mini-video : laser concert with light organs and enchanted waters show).
• IN THE PROGRAM :
Chorals, fugues, trios and other works by JS BACH, Jean-Christian MICHEL's own compositions, Aranjuez's Concerto...
The new concerts offer the public CD quality sound, with live impact ! • FURTHER INFORMATION :
NEW ALBUM
JEAN-CHRISTIAN MICHEL REQUIEM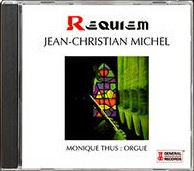 MONIQUE THUS ORGAN & KEYBOARDS
[ ORDER THE CD ] - [ DOWNLOAD MP3 ALBUM ]
REQUIEM
[A fantastic CD by Jean-Christian MICHEL and his musicians, with Monique THUS, organ. The multidimensional sounds of the organ and synthesizers take over space in a mystical atmosphere ...
Requiem - Fugue en Sol Mineur - My Soul Longeth To Depart In Peace - Unto The I Cry, O Lord Jesus - Choral N° 45 BWV 709 Seigneur, tourne toi vers nous - Missa Sine Nomine - Oratorio de Noel - Miserere - Prélude en La Mineur "Anna" - Adagio et Fugue en Fa Majeur - Choral Spiritus alter.

VISIT JEAN-CHRISTIAN MICHEL'S DISCS & CD PAGE

• NEW VIDEOCLIPS OF JEAN-CHRISTIAN MICHEL

BACH JAZZ BY JEAN-CHRISTIAN MICHEL

JAZZ & SACRED MUSIC BY JEAN-CHRISTIAN MICHEL

SHOWS "SON & LUMIÈRE" BY JEAN-CHRISTIAN MICHEL

JEAN-CHRISTIAN MICHEL PLAYS JAZZ
INTERVIEWS JEAN-CHRISTIAN MICHEL
WATCH / DOWNLOAD VIDEO CLIPS

DISCOVER DISCS CD & DVD OF JEAN-CHRISTIAN MICHEL
Clarinet & Organ Discs, DVD & Concerts of a new type