JEAN-CHRISTIAN MICHEL IN CONCERT
JAZZ AND SACRED MUSIC
The Concerts Of Jean-Christian Michel Are An Invitation To Dream And To Travel : The Public Discovers Beyond The Beauty Of Music, The Fairy Of A Wonderful Show Jazz Alchemy & Traditional Sacred Music In Church, With Laser Show, Choirs, Interstellar Spectacle In Front Of Giant Screen
THE CROSSOVER OFSPATIAL JAZZ AND SACRED MUSIC
JEAN-CHRISTIAN MICHEL IN CONCERT
CROSSOVER SPATIAL JAZZ & SACRED MUSIC WITH CLARINET ORGAN & COMPUTER-CONTROLLED SYNTHESIZERS
Jean-Christian Michel has invented a unique musical style, inspired by a whole culture of classical music (notably the Sacred Music of J.-S. Bach and a sophisticated Jazz. He is one of the founder of the "Classical-Jazz" Crossover, with the famous Jazz pianist John Lewis and the drummer Kenny Clarke from MODERN JAZZ QUARTET, and some others brilliant musicians.
Today the music of Jean-Christian Miche is still evolving. Calling on the multidimensional sounds given by modern technology, the great composer has created "JAZZSPATIAL & SACRED MUSIC CROSSOVER", a futuristic music with spatial echoes, which remains warm-hearted and grandiose.
Jean-Christian Miche has discovered how to create a music which is ultra-modern, yet touches the heart with a "primitive emotion" and does not release it. Certain musics lead to dream, others, sustained by a flexible heartbeat, would give almost desire to dance...
Strict in its structures, the musical art of Jean-Christian Miche is just like the universe which it irresistibly recalls : harmonious, ample and timeless.
Reaffirming in the modernity its prodigious emotional power, the music of JEAN-CHRISTIAN MICHEL takes his listeners on strange star-splashed journeys.
Jean-Christian Michel in Church Concert
Jean-Christian Michel

Jean-Christian Michel, brilliant composer and exceptional virtuoso, invented a highly original style between sacred music and black American music. He worked interpretation at the highest level with Guy DEPLUS clarinet teacher at the National Conservatory of Paris. Jean-Christian Michel has played with the biggest names of world jazz from Mezz Mezzrow at Peanuts HOLLAND, Bill Coleman, Kansas FIELDS, Kenny Clarke, Duke Ellington.

THE CONCERT

Jean-Christian Michel appears in a symphony of colours and lights, dressed in his white spatial overall. His talent on the clarinet and his magnetism reveal an unexplored musical universe..
Previously well known for his J.-S. Bach JAZZ arrangements , his version of Aranjuez's concerto and his own works, Jean-Christian Michel, today projects a new imagination in churches and cathedrals
Monique Thus

Monique THUS is a pianist, an organist and a piano teacher in the "Cité de la Musique" in Marseilelle, France.

She has worked with Jean-Christian Michel for more than 40 years ! A deep friendship and understanding link them in their concerts as in life.

She earned first prize in piano, organ, music theory and counterpoint at the Marseille conservatory. She was a pupil of Pierre COCHEREAU.

She is qualified as a "national teacher of Conservatoy" and is organist at the Basilica of Notre Dame de la Garde in Marseille.
She is globally recognized as one of the great interpreters of J.-S. Bach on the organ. Her distinguished playing is clear, precise and imprinted with an extraordinary musicality.
Traditionnal church concert

Every recital begins with this call from the known towards the the unknown. Then one can listen to a strange music of which one did not even suspect the existence, so much is it difficult to define. When Jean-Christian Michel plays, he seems to find the notes beyond himself, in the "other dimension". He restores, throughout his recital, this mysterious force drawn from the infinite, and knows how to share it with a wonderful sensitivity.

The special sonority of his clarinet fuses with the resonances of the organ, in the virtual transparence of synthesizers brilliantly played by Monique THUS. (*)
Because, of course, Jean-Christian Miche calls on real concert artists to exploit the beauty of the sublime sounds which he is using.
Concert with choirs

Jean-Christian Michel has given many concerts with famous choirs, notably that of Saint Eustache in Paris, during a series of ten concerts at the "Champs Elysées" theatre.

Recently he has performed with internationnaly reputed regional choirs, and these concerts have enjoyed an enormous success.

Jean-Christian Michel has composed completely new works for choir and orchestra. Scores and CD on request. Here he performs with the Balory choirs.
LASER 3 D CONCERT / LASER 3 D SHOW
Laser church concert

Jean-Christian Michel's concerts and laser shows express depth and space featuring Clarinet, church organ and computer-controlled synthesizers. A universe of translucent sounds and luminescent lasers : nights of clouds and lightning, green diffracted beams, ceilings of heavy phosphorescent purple clouds create a gulf of obscurity from the beginning of time.

The audience finds itself totally enchanted and involved in this spectacular show of faerie constructions and holograms.
Jean-Christian Michel's concerts and laser shows are an unmissable experience, because photos can only give the weakest outline of this strikingly original and grand dream-reality.
Interstellar concert
in front of giant screen

INTERSTELLAR CONCERT IN FRONT OF GIANT SCREEN

The interstellar concert of Jean-Christian Michel is a dreams in the stars : a giant-screen video backprojected, continues amazing interstellar images. It evokes a space trip in which stars, planets, meteorites jets and mysterious spheres integrate with musical themes.

This show takes the audience into the secret of galaxies. It reveals the sacredness of the cosmos, and the obvious link between music and universal harmony.
The flow conducting music vibrates in the strange stellar deep resonance, and connects the powerful breath of the stars to the beauty of the melodies.
A magical and mesmerizing dream to awaken at least once in his life!
LASER FIREWORKS & ENCHANTED WATERS LASER SHOW
Concert by Laser Light
And Fireworks

JEAN-CHRISTIAN MICHEL's GRAND OUTSIDE LASER and FIREWORKS SHOW and ENCHANTED WATERS LASER SHOW use the latest in high-tech sound, lighting and special effects.

- Clarinet, digital organ, and computer-controlled synthesizers reveal an astral world. Jean-Christian Michel's concerts add holographic effects and volumetric lasers, fireworks and brilliantly lit water organs :

- Concerts of living, cosmic music for a majestic sound and light show, where glowing infernos and incandescent meteors mix with the springs and gigantic fountains of lit-water rising to lay siege to heaven in an unprecedented show.

VISIT THE SPECIAL PAGE : [ HOLOGRAPHIC LASER AND ENCHANTED WATERS LASER SHOW ]

LASER CONCERT WITH WATER SCREEN - CONCERTS IN "NATURAL CATHEDRALS"

IN THE PROGRAM

Jean-Christian Michel's works. Arrangements of J.-S. Bach, and of contemporary composers - Aranjuez's Concerto.

TEAM WORKING
| | |
| --- | --- |
| | Jean-Christian Michel's team assures a sound of the highest quality and lighting with electronically-controlled special effects, which gives the show an unusual dimension for a concert. Computer-controlled synthesizers allow the audience to hear CD quality sound, but naturally with much more presence and an incomparable expression of emotion. |
CONTACT

For our prices and any organizational questions,
please write, e-mail, or phone.

_______________________


GENERAL RECORDS
Jean VALDET, External Relations


Tel : 33-4 42 24 92 52
e-mail -

NEW ALBUM / CD RELEASE & MP3 DOWNLOAD
JEAN-CHRISTIAN MICHEL PORT MARIA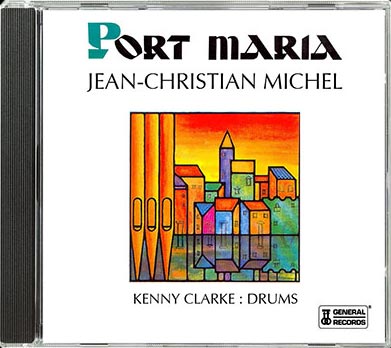 KENNY CLARKE DRUMS
| | | |
| --- | --- | --- |
| Replay music | Remember to refresh your browser | |
[ ORDER THE CD ] - [ DOWNLOAD MP3 ALBUM ]
PORT MARIA
With Monique THUS, organ ; Kenny Clarke, drums ; Jean-Pierre COULEAU, piano. The sublim concerto for clarinet and piano from Jean-Christian Michel.
Port-Maria - Le Voleur de Sommeil - Trille et fugue en ré mineur - La Corde de Larmes - Sonate en Fa majeur - Choral les Oxydes de Lumière - Les Paraboles de l'Espace - La lagune insondable.