SONGBOOK: SHEET MUSIC DUO CLARINETTE / PIANO / ORGUE
Jean-Christian Michel's Clarinet Scores Are Edited In A Luxurious Booklet of 40 Illustrated Pages. Musical Writing in C for Piano, Organ, Flute, Synthesizer - Bb Clarinet, Trumpet etc. Transcriptions On a Separate Attached Booklet. For A More Convenient Duo Interpretation, Clarinet, Trumpet / Piano or Organ, Each Having Its Partition - Free Classical Sheet Music Available In Midi Format.
MUSIC OF JEAN-CHRISTIAN MICHEL - IMPACT ON THE WORLD OF MUSIC
Jean-Christian Michel is a well-known contemporary French great composer, a great pioneer in bringing jazz and classical music together.
Jean-Christian Michel, famous for his transcriptions of Johann-Sebastian Bach in jazz and his own compositions with more than 5 million albums sold (3 diamond discs, 7 platinum discs and a dozen gold records), enjoyed a phenomenal career. His music has been performed all over the world (Europe, Canada, Usa, South America, Australia, Japan, Africa)
SONGBOOK OF JEAN-CHRISTIAN MICHEL
LUXURIOUS SONGBOOK

40 PAGES SONGBOOK

Luxurious Laminated SongBook - 40 pages of sheet music, texts, and stunning glossy photos.
SONGBOOK OF PIANO & ORGAN SHEET MUSIC
+ CLARINET & Bb INSTRUMENTS TRANSCRIPTIONS
40 PAGES WITH THESE JEAN-CHRISTIAN MICHEL'S WORKS
REQUIEM - FUGUE EN SOL MINEUR - ORATORIO DE NOËL - KYRIALE - LE CŒUR DES ÉTOILES - VISION D'ÉZÉCHIEL -ÈVE DES ORIGINES - LES PARABOLES DE L'ESPACE - LE PUITS DE LUMIÈRE - VIF OBSCUR.
HOW IS THE SONGBOOK : ORGAN SHEET MUSIC / SYNTHESIZER / FLUTE, VIOLIN, Etc.
+ 40 PAGES OF ILLUSTRATED SHEET MUSIC.
The Songbook of Jean-Christian Michel is a luxurious album of 40 coated paper pages, with a hardback four-color process cover. 30 pages of scores for piano, organ, or synthesizer, illustrated with 10 other big pages of texts and photos.
WRITING IN UT.
The transcriptions for B flat clarinet is published on 10 additional separate pages, so that the clarinettist can read comfortably his part without having to deal with the shoulder of the organist or the pianist.
Jean-Christian MicheL's recordings were realized with a B flat clarinet. However we adopted in the booklet a scoring in C, thus favouring piano or organ accompaniment reading or arrangement for other instuments such as the flute.
The organ part has been partly "contracted" for piano, as accuratly as possible without becoming of an insurmountable difficulty. As far as possible, the whole melody is present in it.
♔ + TRANSCRIPTIONS FOR CLARINET AND Bb INSTRUMENTS
Bb clarinet scores are included with the Songbook, allowing the clarinet player to read their part immediately, without having to transpose. Our musician friend will have the opportunity to read his clarinet score directly on his own music stand, accompanied by his pianist or organist, who, too, will have nothing to transpose. Take advantage of the promotion and order your clarinet sheet music songbook now. There are very few left because the stock is practically exhausted and this booklet will unfortunately not be re-edited.
| | | | |
| --- | --- | --- | --- |
| | SONGBOOK - PRICE : 35 € | (only few booklets in stock) | |

SONGBOOK SHEET MUSIC IN PDF FORMAT TO DOWNLOAD - 25€
So we thought it would be useful to publish Jean-Christian Michel's sheet music Songbook in PDF format.
These professional-quality pages, which faithfully reproduce the songbook's covers, photos, and sheet music, are now available for download.
They can be bound together to make an elegant booklet (Google: Craft binding How to).
FREE SCORES FROM J-SEBASTIAN BACH
DOWNLOAD / DOWNLOAD / DOWNLOAD / DOWNLOAD / DOWNLOAD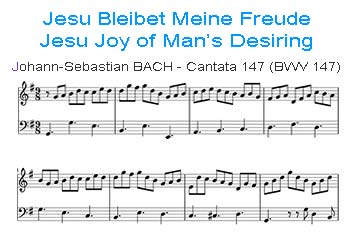 Sheet music "'Jesus joy of man's desiring" piano PDF to download for free
Jesus Joy of man's Desiring, cantata 147 (BWV 147) by Johann Sebastian Bach is one of the masterpieces of classical baroque music
The original score has been the subject of numerous transcriptions including that of Jean-Christian Michel.
FREE CLARINET's TRANSCRIPTIONS FROM J-SEBASTIAN BACH ON FREE MIDI FILES
VISIT OUR PAGES ON THE [ CLARINET ] - TRANSCRIPTIONS FOR [ CLARINET ON MIDI FILES]
Two large pages of the voluminous volume "LA CLARINETTE DE A à Z" on our site, deal with MIDI music and its practice for beginners and professionals. (French language).
[ MIDI Music ] & [ Free Classical Music Midi Files]
YOU WILL FIND THERE :
MIDI files to listen to, to download or to edit into scores. Detailed explanations on MIDI music, MIDI files etc.
JEAN-CHRISTIAN MICHEL AS COMPOSER
Original "Sacem" score from Jean-Christian Michel's Requiem
Jean-Christian Michel has joined the classical great composers, as we call the great musicians whose brilliant creations remain undiminished by time. Nevertheless his music is not "Traditional Classical music", in the usual meaning of this phrase, because if its source is in the patrimony of Occidental Classical music, the sacred music of cathedrals, then it is equally in a contemporary sophisticated Jazz with spatial echos.
A UNIQUE CAREER IN CLASSICAL MUSIC AND JAZZ
Jean-Christian Michel
With Jean Guillou

Jean-Christian Michel
With Pierre Cochereau

Jean-Christian Michel
With Kenny Clarke

Jean-Christian Michel
With Duke Ellington
Jean-Christian Michel had intended on a career as a surgeon and obtained his diploma with the congratulations of the Jury.
However, during his studies, he dedicated all his leisure time to Music : Jean-Christian Michel studied harmony and composition at the conservatory first, then quickly got into the school of chosen great masters : Johann-Sebastian Bach, Rachmaninov, Fauré, Debussy, Ravel, Satie, Vierne, Jehan Alain...
Jean-Christian Michel quickly acquired a great mastery of writing. He perfected at the same time his mastery of harmonic and rythmic improvisation, with black Americans jazzmen ; the great composer attended, played and recorded with very famous american jazz musicians, such as Duke Ellington, Mezz Mezzrow, Kenny Clarke, Peanuts Holland, Jimmy Smith, Kansas Fields ; or european jazz personalities as Claude Luter, Chris Barber, François de Roubaix, Claude Bolling, Daniel Humair, Stéphane Grappelli, Guy Pedersen, Henri Texier...
Quickly promoted to the title of Definitive Associate at SACEM, Society of Authors and Music Composers, Jean-Christian Michel will therefore divide his time between composition, arrangements, recording studio, sound design and concert tours in France and in a good half of the world.
CONTRIBUTION OF JEAN-CHRISTIAN MICHEL AND IMPACT ON THE WORLD OF MUSIC
The Jean-Christian Michel's transcriptions for clarinet and organ from Johann Sebastian Bach, as well as his daring personal compositions, have conquered a huge audience of music lovers ... Many eminent musicians, such as Pierre Cochereau, Jean-Jacques Grünenwald or Jean Guillou, were incredibly impressed by his work.
Thanks to him, classical music and in particular sacred music is appreciated by an ever wider audience : the clarinetist largely contributed to make known this spiritual expression of the "serious" music by the disc, the concerts and its scores.
AUTHENTIC LANGUAGE
Jean-Christian Michel speaks an authentic language, proceeding from a direct art. His extremely original compositions are built on a simple and frank melodic line, with sought-after harmonies and new rhythms.
The musical universe of Jean-Christian Michel joins the deep current of his time : his music is no longer addressed to a cenacle of specialists, but to all those who, whatever their environment, aim to raise the life at the level of an art ...
* Jean-Christian Michel's work has been rewarded by numerous prices, of which that of "Sciences and Culture" given at the Sorbonne by a jury consisting of 6 Nobel prizes-winners.

NEW ALBUM / CD RELEASE & MP3 DOWNLOAD
The music you are listening to on this page is in the album :
JEAN-CHRISTIAN MICHEL ÈVE DES ORIGINES: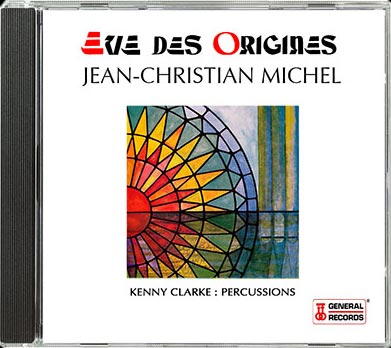 KENNY CLARKE DRUMS
| | | |
| --- | --- | --- |
| Replay music | Remember to refresh your browser | |
Recorded in Paris with the church organ of the German Evangelical Church.
[ ORDER THE CD ] - [ DOWNLOAD THE MP3 ALBUM ]
ÈVE DES ORIGINES
A fabulous album with Kenny Clarke drums, Monique THUS, organ ; Kenny Clarke, drums ; Guy PEDERSEN Double-bass. A great recording byJean-Christian Michel.
Ève des Origines - L'aube des temps - Le jardin des oliviers - Choral en ré mineur et variations (part 1 - Choral) - Choral en ré mineur et variations (part 2 - Variation) - L'équation de l'infini - Le calice de Lumière - Le souffle des orgues - Divertissement en do mineur - La cathédrale des brumes.
VISIT THE PAGE : DISCS & CD BY JEAN-CHRISTIAN MICHEL